Now, when it comes to riding, bikers know they've got to be on top of all the latest accessories for a smooth journey on the road. Carrying a helmet is always a must for safety reasons of course, however, carrying a backpack is as crucial of an accessory as everything else on the list. 
If you've been a longtime rider, then you know that the search for a perfect backpack is equally as important for all your travel needs. Like a school bag, you can keep your belongings in the backpack while riding a bike. And with Asia's unpredictable weather, it is crucial that motorcyclists purchase the right waterproof motorcycle backpack to make sure they're able to carry everything they need for trips.
MOTORCYCLE BACKPACK BUYING GUIDE
Before we introduce you to our top 5 picks of waterproof rucksacks, we've taken the liberty in writing down specific features you should be looking out for to help guide you with your search:
Carrying straps: Consider a combination of thick straps and a chest strap when it comes to buying a motorcycle backpack. This makes it easier for you to handle your backpack and minimizes hurting your back. Take note of the fact that a good motorcycle rucksack should be easy to carry while riding a bike.
Stitches of a backpack: Always look at the stitches of a backpack before purchasing one. They should be should be strong enough to hold heavy loads of different things. If you feel the stitches aren't strong enough, don't waste your money. Pick a reliable brand so you can be assured of high-quality stitching.
Quality of fabric: Riders want a backpack that is going to last for as long as possible. Right? Then, a strong and durable fabric is the ONLY option here. Select  thick quality (but lightweight) material as this helps protect the backpack and your belonging from nature's elements.
Lightweight material: While there are many brands offering fashionable backpacks with buckles, remember these only add weight to your backpack. Opt for one that feels light to carry around. You'll thank us in the long run because like we previously said, "a backpack should be light to carry while riding."
The capacity of a backpack: The capacity of a backpack should be large enough to carry your belongings ie. food, a water bottle and some tools. The capacity of a motorcycle backpack is very important if you'll be carrying a lot of stuff around.
Waterproof motorcycle backpack: Water resistance is by far the most crucial feature for a motorcycle backpack. You must consider a waterproof backpack to carry your belongings in especially since Asia's prone to bouts of heavy rainfall. Having a motorcycle waterproof backpack is great if you're carrying documents or electronics.
Lockable zippers: A backpack with lockable zippers is a great feature to go for. Your cellphones, keys, and other precious items will be kept safe with lockable zippers.
 TOP 5 WATERPROOF MOTORCYCLE BACKPACKS
So, you've got your specifications in mind. Here are our top 5 picks to help you begin your search: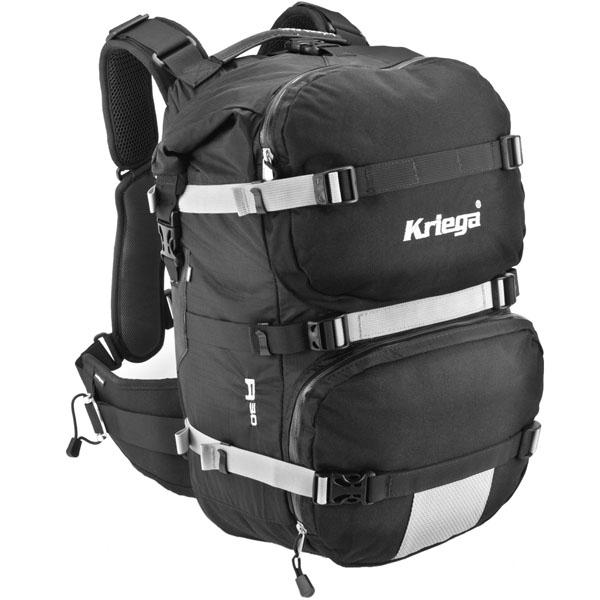 KRIEGA R30, RM792
The R30, although it is on the pricey side, it is steal worth the bucks, as it is the king of all waterproof backpacks. it will keep your belongings nice and dry, regardless of how harsh the weather is. The Quadlock harness harness spreads the weight of the backpack across the chest, instead of the back, making it perfect for long journeys. If 30 litres capacity is not enough for you, then you can opt for 5 or 10 litre drypacks. it comes with a 10 year guarantee, so you don't have to worry about a faulty backpack.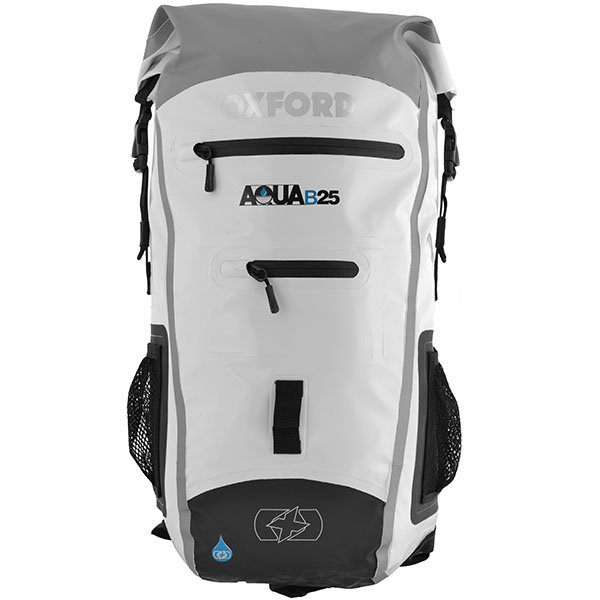 OXFORD AQUA B25, RM199
On the other end of the price spectrum, we have the Oxford Aqua B25, it offers a great alternative for those who doesn't ride much or don't want to spend too much. It's got a 25-litre capacity, which is just enough to fit all of your essential B25 has a roll top enclosure and features a few additional pockets on the outside of the bag.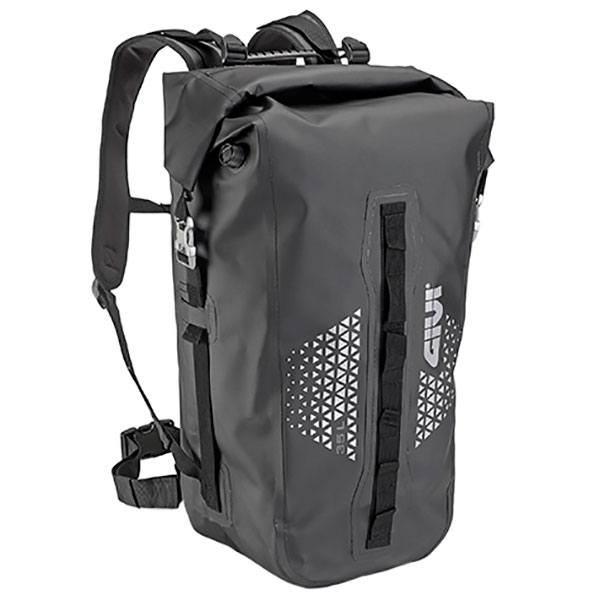 GIVI UT80Z ULTIMA-T, RM437
The T802 Ultima-T by luggage experts, Givi, features a massive 35-litre capacity and features a heavy-duty tarpaulin roll-top construction with an air-release valve to stop the bag ballooning when it's closed. this backpack can double up as a tail pack, and is able to easily be attached to the rear of a bike, making it the perfect backpack for those who go on long journeys, but don't want to carry a backpack the entire time.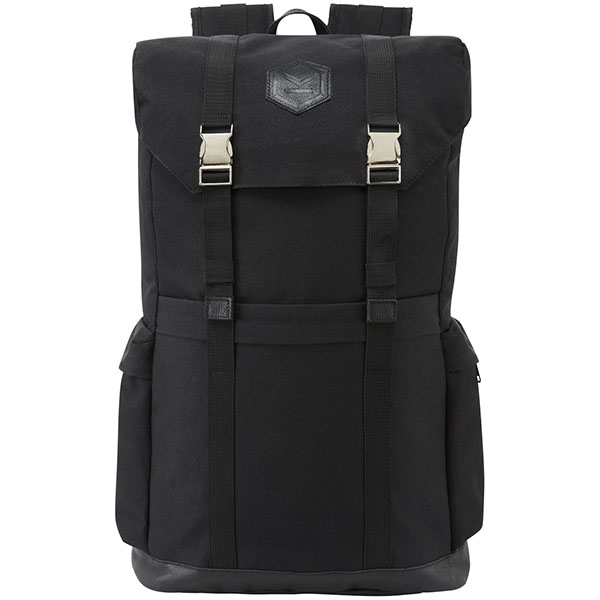 KNOX STUDIO RUCKSACK, RM274
The Studio rucksack from Knox, with a 28-litre capacity and affordable price, offers a stylish and practical backpack for everyday use. The outer is made with tough 600 denier nylon and leather and has a fully taped internal lining. Some of the additional features include, three water-resistant outer pockets and helmet carrier.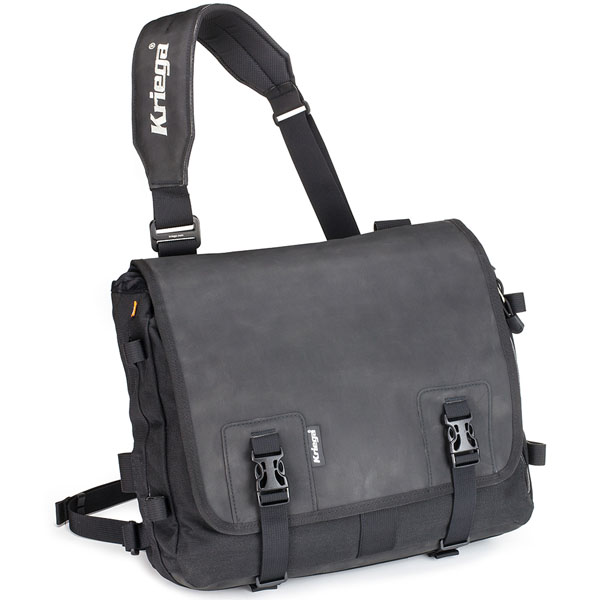 KRIEGA URBAN MESSENGER  BAG, RM672
If you're looking for something trendy, this one would be perfect. although you can't fit a kitchne sink in there, but you can ride with class with this stylish piece. The shoulder strap can be adjusted to fit either the left or right shoulder and the bag is of course, absolutely waterproof. It's made from super-tough 1000D Cordura and Hypalon and also features an additional water-resistant side pocket to keep everyday essentials. If 16-litre capacity is not enough for you, the bag has the ability to fit up to two additional 5-litre drypacks too!. Like the R30, the Messenger bag also comes with a 10-year guarantee.